College
A free font by Matthew Welch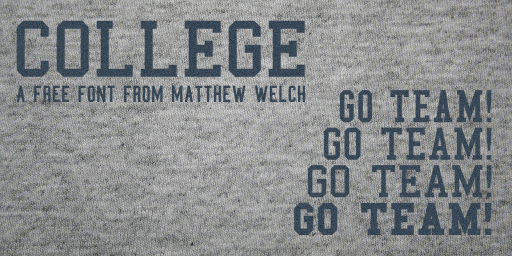 Not very original, but darn collegiate don't you think. I thought this would be nice to have in the form of a font and I realized that in order to really be useful it needed to be made with several different weights and widths. So I made them. Capital letters have the block serifs on them. Lower case are the simpler letters.
The font demos on this page don't work without javascript.
Font Samples (may not work in all browsers):
SWEEP THE LEG
STAY GOLD, PONYBOY
WALLY WORLD, HERE WE COME!
WE ARE MEN OF ACTION, LIES DO NOT BECOME US
death by stereo
don't call me stupid
do, or do not. there is no try
does barry manilow know you raid his wardrobe?