Rushin
A free font by Matthew Welch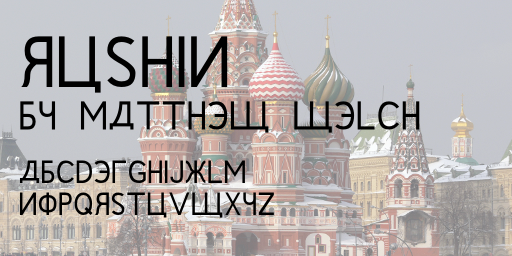 Have you ever seen some Russian writing and tried to pronounce it like it looks, even though you know probably none of those letters are pronounced like the Latin alphabet letter they look like? That is what this font is based on. I took all the Cyrillic letters and matched them up with the Latin alphabet letters they look like. I threw out all the Cyrillic letters that didn't look like anything and filled in the remaining characters with the regular Latin alphabet. The result is that you can type out a phrase and it will look like Cyrillic lettering while being perfectly readable English.
The font demos on this page don't work without javascript.
Font Samples (may not work in all browsers):
Phone home
Death by stereo!
I love my dead, gay son
Joey, do you like movies about gladiators?