TRTL
A free font by Matthew Welch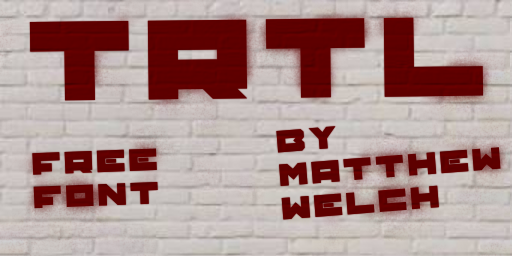 A decade ago in downtown Detroit there were a lot of empty, abandoned buildings. Back then you could find graffiti turtles spray painted on them. They were usually accompanied by the word "turtle" spelled in a variety of interesting ways: TRTL, Turdl, trdl, etc. I have heard that this was done to the abandoned buildings in protest to the glacial pace at which the city of Detroit was being "revitalized".
In the decade since, Detroit has really turned itself around. There are new tennants in most of those buildings and they are being steadily restored. It's pretty cool to see the way the city is finally building itself back up.
I made this font back when the buildings were all still empty. The idea for this font came from the "TRTL" lettering in the windows of one such abandoned building. The messages were written one letter per window and said things like "NO WAR" and "NO RACISM" and, of course, "TRTL".
The font demos on this page don't work without javascript.
Font Samples (may not work in all browsers):
splat
go away
from graffiti
i saw them in a window